Celebrate an early St. Patrick's Day at the Buffalo and Erie County Naval & Military Park and support USS The Sullivans in its 80th Anniversary year.
USS The Sullivans has been decorated with shamrocks since World War II in recognition of the Irish heritage of the five Sullivan brothers. Take a special evening tour of USS The Sullivans and see how many shamrocks you can find.
Join us at the Buffalo Naval Park on Thursday, March 16 from 5:00 PM – 8:00 PM for an evening of food, drinks, tours, raffles, and more! Learn about the history of USS The Sullivans, the Sullivan Brothers, and updates on our preservation efforts to save the ship. The ticket includes food, beer from Sullivan's Brewing Company, wine, and soft drinks.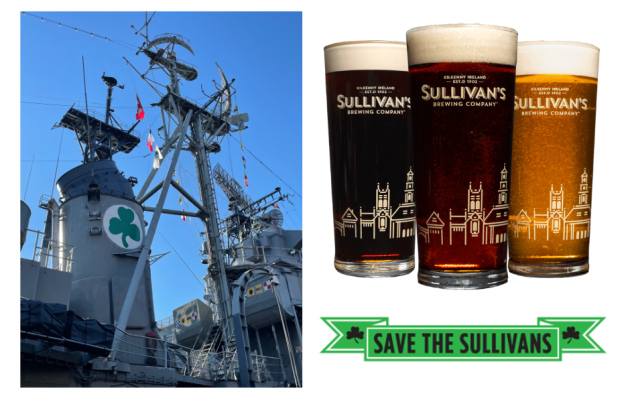 5:00 PM – 7:00 PM: Tours of USS The Sullivans and Reception
7:15 PM: USS The Sullivans Program and Updates
Tours will be offered on an ongoing basis between 5:00-7:00 PM. Please note that certain compartments aboard USS The Sullivans continue to be closed due to ongoing preservation and maintenance. Docents and staff will be available on board to discuss the damage and work being done as a result of the April 2022 partial sinking incident.
Click here to purchase tickets.
USS The Sullivans (DD-537), a Fletcher-class destroyer, saw action in World War II, the Korean War, and the Cold War, and is a major attraction at the Buffalo and Erie County Naval & Military Park. USS The Sullivans is named in honor of the five Sullivan brothers who, serving together on the light cruiser USS Juneau, were all killed in action on its sinking around November 13, 1942. The ship was christened by the fallen brothers' mother, Alleta Sullivan, and is a National Historic Landmark. It holds a special place in our nation's military history and a special place on the Buffalo Waterfront.